Description
SB Civil Engineering is a reliable civil engineering company. Our expert civil engineers have extensive expertise and many years of experience in section 278 highways, specialist drainage services, and sewer connection. We are one of the most trusted Thames Water Approved Contractors, Anglian Water Approved Contractors, and groundworks contractors. We approach every civil engineering project with the same commitment to quality and detail, and we've built a reputation as a leading civil engineering contractor as a result.
Despite the fact that there are many civil engineering companies, we strongly believe we offer something different and superior. Our passion is matched only by the experience our team provides, which means we can draw from engineering careers that span decades in some cases to deliver the most cost-effective and efficient plans and alternatives available. The ability to apply our skills to any area of infrastructure development, regeneration or reclamation sets us apart from our competitors in the private developer, commercial and local government sectors. Working closely with so many clients and on so many projects also means that we are incredibly proud of the quality customer service skills we possess.
Reliable Highway Contractor: Our Section 278 Highway Works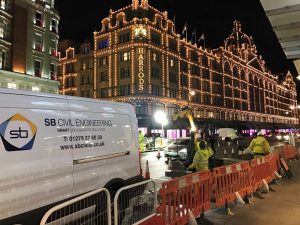 We have been operational in the highways sector since our formation. We are one of the most reliable highways contractors and we are experts in new and remodelled highway construction, adoptable highways, drainage, urban regeneration or enhancement schemes, footpaths and traffic calming measures, urban landscaping, S278 works, cycle ways, junction modification, and embankment stabilisation.
Our highways specialists have a comprehensive understanding of the highway sector and they have contributed significantly to the upgrade and renewal of the local network.
We have extended our highway services to meet our customers' demand. We deliver everything required to build your project from providing and maintaining traffic management right through to the civils, asphalting, street lighting, signs and lines. Our highways experts carry a minimum CSCS and most have, or are working towards NVQ levels 2 and 3. Our site supervisors hold both Street Work and SSSTS/SMSTS certification.